December
I closed 2004 at the Peachtree Drop at Underground-Atlanta. You can read the details in the 2005 news page if you're interested.
With work closed for Christmas I decided on a little road trip. I drove up to Asheville NC and crashed in a hotel. Then first thing the next morning I hit the slopes at Sugar Mountain. There's only a few lifts and not many trails but it was really nice to be outside and skiing. It was almost 60º so many people had stripped down to T-shirts. I had fun.
I went to the last installment of Secretroom at the Masquerade on Christmas night. It was not well attended and there was no heat so the place was very morgue like. I really wanted to close the place but I was just too cold. But the music was good and there was some entertainment so not a total waste. The usual suspect were there and the drama was entertaining.
Andy Offutt Irwin's CD Release - "Christmas at Southern White Old Lady Hospital" at Eddie's Attic was great! A lot of people turned out and the music and story telling was delightful. I sat with Chuck and Julie - A good time was had by all.
Madame Torchy Taboo, Queen-Bee of the Atlanta burlesque scene prenented the House of HeatThe Red Velvet Revue at the Echo Lounge with The Glorious Glampira, Big City Burlesque, Barbalcious from The Doll Squad, and Ice. It was a lovely example of burlesque with each girl presenting a skit where she strips down to a g-string a pasties. The show was good. Most of the girls were on the curvy side which is a nice change from all the anorexic strippers we normally get to see. The Echo continues on it's downward spiral of poor venue - now unable to serve alcohol and still the shows start 2 hours late.
November
Marc Cohn played a good show at the Variety Playhouse. It's been ten years since his last albumn and he really hasn't played since: This could have been a disaster but fortunatly did not. Sure, his music has changed over the year, mostly through the addition of an electrical gutarist that doesn't really blend well with his soulful bluesy style, but the songs still have the heart and soul that touched us back in 1993. So when it was over we cheered for two encores and can honestly say we enjoyed the show. Vienna Teng opened - I wasn't impressed but my friends thought she was wonderful and have become instant fans (Vienna if you're reading this - Hi). They were very disappointed when she sold ould of her CDs and they couldn't buy one at the show.
Kasey Chambers, from Australia put on a very good show at the Variety Playhouse. A coworker is a big fan and wanted me to come as his wingman. It was a very well done show and I was impressed enough to buy her new CD. It's hard to imagine she's a country-western singer from Down Under, but between songs her thick Aussie accent was unmistakable. Holly Williams opened and did a fine job too.
The Dames A'Flame presentation of FROU FROU a Go Go! A Universal Parisian Exhibition was very good. In the style of old fashion burlesque, with a serious dash of French sauce, they did the striptease routine without getting naked. Two of the skits had women down to pasties but mostly it was just sexy. I thought the Tastes Like Chicken skit and the dancing monkies were the funniest. The obnoxious French MC was dead on. Seating was a problem and the show started way late but it was fun and I'd recommend it.
| | |
| --- | --- |
| We went to see Gajamukha, an Indian ballet, and really enjoyed it. Through music and dance, this group tells the story of the elephant-faced Hindu deity -Gajamukha. The costumes were very nice and the music and dance excellent, but I think a little more stage dressing would have been nice. The Rialto theater was very nice too. | |
I was very disappointed by the Shakespeare Tavern's performance of A Winter's Tale. It was the opening preview and there were several blunders - but that was funny and okay. No, I was really put off by the lead actor who was so awful all I can do it compare him to William Shatner. He overacted so badly it really ruined the play for me. This is one of Shakespeare's more complicated and long plays and if not done right can be terrible - Which it was. It's suppose to be Othello but with a happy ending - this version felt like something that had been put through a blender - totally mixed up brown.
October
The 32nd Annual Stone Mountain Highland Games at Stone Mountain Park were quite enjoyable this year. I had a Scottish Bridie which was very good. The music was nice, but nothing really great. I actually got to see the sheep-herding dogs this year and that was very cool
Craig Carothers, Don Henry, and Gene Nelson performed their usual excellent show at The Swallow at the Hollow.
I was disappointed by this year's Chili Cook Off at Stone Mountain Park. Many of the entries were burnt which really ruined some of my taste buds. But I still had a good time and look forward to next year.
Jennifer Daniels put on a good show at Eddie's Attic and told us she'd finally fixed her septic tank problem. So her dog will not be called "Heppy" anymore. (Short for Hepatitis)
September
I ventured downtown on a weeknight to see Jennifer Daniels at Smith's Olde Bar. It was suppose to start early but because of the low turnout they delayed the show until 9:40 - That sucked! She put on a fine show but I had to leave and missed the other band.

Yaya as Gogo

The silliness of DragonCon 2004 has ended, but the pictures will live on forever. You can visit my photo album here.

I got autographs from Anne McCaffrey, Todd McCaffery and Olivia; I took hundreds of pictures of people in costumes and just looking really cool; I discovered a new musical artist named Luke Ski who was really funny, and overall - had a good time. This year there were a lot of Kill Bill, AVP, Harry Potter students, pirates, elves, faeries, and plenty of goth babes of course.

This is a picture of the beautiful and talented Ya-Ya Han of Angelic Star. She's a local model and costume maker. Here, she portrays Gogo Yubari from Quentin Tarantino's Kill Bill: Volume One.
Sting put on a great show Phillips Arena. He sang all the big hits and, combined with a great light show and large plasma screens adding visual effects, made it a very memorable show. He mixed the big hits with new stuff so the audience was constantly jumping up and dancing and sitting and mellowing out. All the music was performed with a more reggae flavor than was originally recorded but that made it unique and better. Annie Lennox also performed nut her show was weak.
August
Carla Ulbrich played a delightful show at Fiddler's Green. She played most of the songs from her new CD called "Sick Humor." It's a collection of medical related parodies that tell the story of her year in and out of hospital. I think it's very funny though my friends label it only amusing.

Fiddler's Green is a small log cabin that doubles as a community center for a little section of Buckhead. They organize a monthly folk music show for a group in the area though it's open to everyone. It was strange being the youngest person in the room: not at all the same audience as her other shows. I really enjoyed the show.

Bob Malone also played very well. He's very similar to Joe Cocker with his smokey-scratchy blues sound. He played an electric piano in a very white shirt, vest, and slacks. He looked a lot like the icecream man to me.
We went to Chastain Park for the ZZ Top show, my first time there. Although the show was good, I was disappointed. The stage show was minimal, the sound was fair, and the band lacked excitement. They opened with a hit, but then kept the mood very mellow for a full hour before unleashing the hits. By then the audience was too sedate to get really excited, then the show ended. I was expecting an exciting stage show with props and dancers - I got three guys and two guitars. (playlist) BR5-49 opened: They were fair. The park was nice though. They let everyone bring in food and coolers and the atmosphere was very friendly and comfortable.
AVP (Alien Vs. Predator) was an okay action flick, but I was not impressed. It had several holes in the story and was not very suspenseful.
Jennifer Daniels put on a great show at Unplugged in the park. It was very hot but 99X was there to entertain and give out stuff. 7 Sharp 9 opened and weren't too bad. You can visit the website if you want to see pictures.
July
My weekend with my sister did not go as planned. After a nice trip to Stone Moutain and the Atlanta Botanical Gardens to see the Chihuly exhibit we finished the day with the good movie, The Bourne Supremacy. But then things started to go bad on the way to The 2004 National SCRABBLE® Championship in New Orleans, LA.
Although the plot was a little thin, Catwoman wasn't nearly as bad as the critics made out. It was fun at times and Halle Berry looked really good. The CGI and special effects were over-the-top and I don't think I ever need to see Sharon Stone ever again,
LUST put on a fun show with the Heat Seekers at the 9 Lives Saloon. The girls were dressed and merrymen from Robin Hood while the drummer was dressed as a monk. They were missing their 4th member.
I liked the movie I, Robot. It was aof a detective story than sci-fi but I really enjoyed the complex story.
June
| | |
| --- | --- |
| | We went to Amma's Chai House and Vedic Bookstore to see Asha perform. We had a light dinner and some great mint tea while waiting for the performance to start. First Asha did the Guedra, a traditional Moroccan trance dance and blessing ritual. It was very intense - she danced herself into a frenzy as the audience clapped and chanted Then her friends did some more audience participation type dancing which was a lot of fun. The music and dancing got almost everyone up and dancing. It was a great time. I hope to see more of Asha's dancing in the future. |
The Nanci Griffith show at the the Atlanta Botanical Garden was very cool. She did a mixture of old and new songs that seemed to appeal to everyone. Realizing that she was deep in Republican country she kept her politicking very light but did talk a lot about her Nixon/Agnew button collection.

It rained before the show and we got soaked as we waited to get in. But then the clouds parted and the show was very good. The park passed out plastic sheets to sit on but we'd brought our own tarp and beach towels. They had fancy sandwiches for sale, so next time we'll eat there. As a bonus there was an exhibit of Chihuly art on displace and seeing it lit up as night was wonderful.
| | |
| --- | --- |
| I went to a very interesting art show called Fact or Fantasy? at the Seen Gallery. While I really was in awe of the art of Lisa Iris, her use of glowing color and detail is amazing, I can't afford her prices. I purchased a work by James Dean because I thought Pete the Cat in Atlanta was a must have painting. The clothing of the fashion show was very naughty (which I'm all for) but it was the sword dance performed by Asha that I'll remember for a long time. | |
May
I saw A Funny Thing Happened on the Way to the Forum at The American Shakespeare Tavern and really enjoyed it for the second time. My parents came down for the show too. We also went to Callaway Gardens and saw the bird show and the butterfly center.
Jennifer Daniels put on a wonderful show at Dreamcatcher Guitars in Roswell. There were the usual glitches that make her shows so much fun. This time the power blew mid-song and she came to a solid halt while they plugged her stuff back in. It was very amusing. Also, she remarked about eating too many nachos at the Mexican place before the show and laughed at herself because it was coming back to haunt her. But the big news is her new CD, Summer Filled Sky which I've had the chance to hear. I can say without reservation, the CD is awesome!
Shrek 2 was very good, but I think they went overboard with the references to other movies. I was so distracted looking for store names and clips that I missed a lot of the movie. The story was very good and some of the minor characters really steal their scenes. There's one thing in the movie I think parents are going to have a hard time explaining to their children (Pinocchio's clothing choice).
Troy the movie SUCKED! I can't begin to describe the many, many reasons.
Jennifer Daniels played Schroeder's Deli in Rome, GA. It was a long drive and the bugs ate me up, but it was nice.
Shakespeare done right!

The Georgia Shakespeare Festival presented A Midsummer Night's Dream or as they called it, Shake at the Lake. It was a free outdoor performance in Piedmont Park. They took some liberties with the setting and the dialog but that just made it easier to understand and a lot more funny. At one point one of the actors (Puck) broke into singing "She Bang, she bang" that had the audience roaring with laughter. At another point he finished his dialog as a rap to make the point. It was perfectly done. Overall, the acting was very good and the stage was awesome! They had this giant "Stargate" that changed colors and made the most amazing lighting effects. After sunset, the stage glowed like an enchanted forest. I thought Jonathan Davis as Bottom and Tara Ochs as Helena did an awesome job.

As a special bonus, 99X Freeloaders got tickets and a Moes's burrito from Noel (a very cute girl in 99X sales). It was one of the best Shakespeare plays I've ever seen.
Van Helsing the movie was disappointing. The opening cinematography was great, but when the action moved inside the CGI wasn't as good. His super weapons and her super powers were over the top and bad. The plot had huge holes that left me very confused. While I thought is was a good (fair to good) it was far from very good. I'll be amazed if it makes any money.
I had an interesting talk with Reece Newton about art, photography, ego, models and all kind of other stuff at an art gallery down town. They had moved the Cyberotika2004 artwork and were throwing a little opening party at the new location. It was not well attended, probably due to the short notice and being scheduled against the last episode of friends, but I think we had a good time. I bought the DVD.
April
Don Henry, Craig Carothers and Gene Nelson put on their usual great show at The Swallow at the Hollow. Don has a new short haircut and looks very different.
The Inman Park Spring Festival was nice though unorganized. I set up my chair in a good position to watch the parade and everyone organized behind me. Then, just as the parade started, a staff member led his family to stand right in front of me and everyone else set up in chairs. Then he ignores his children as they run around and almost get run over by the floats. What an idiot!
Shania Twain put on an excellent show at Philips Arena. She sang her big hits and danced around a lot. Her costumes weren't very elaborate just spandex and sequins - but she looked very nice anyway. She really humiliated a guy with binoculars in the front row. Also, as she worked the stage, she signed autographs and shook hands. Overall a good show. Emerson, the opening band was only fair.
I was not allowed to take pictures at Cyberotika2004, a fashion and art show but I still had fun. The art was the same fetish stuff I'd seen other places and the fashion show was poorly organized but it was still very entertaining to people watch and mingle. Hopefully pictures will show up on other sites.
Kill Bill Vol 2 was very good. The action was good, the story was good and it was just plain fun.
Mary Prankster put on a good show at Eddie's Attic. She performed her usual songs without back up and still did a great job. The warm-up guy was marginal. Service at Eddie's has really deteriorated: My hamburger was terrible and the waiter was missing most of the night.
| | |
| --- | --- |
| We went to Alegria, this year's offering from Cirque du Soleil and really enjoyed it. I was quite different from the last one I saw, Dralion. This show had more drama and less acrobatics. I have to admit I was a little disappointed. The juggler wasn't impressive and the clown routines were to long and boring. I didn't get the theme either, even after I read the explanation. On the positive side the costumes were great, the Hula-Hoop Contortionist was excellent, the Russian Bars routine was amazing and overall we had a really good time. We'll definitely go back next year. (I think a few of the acts were missing, probably due to Atlanta pollen and illnesses). | |
The Atlanta Dogwood Festival was very nice this year. The sun was shining, the music was good, and it wasn't too crowded. I mainly went to see Diane Durrent play the main stage, which was great! She really sounded incredible coming from the big speakers. The crowd was huge, maybe 2000 people and really seemed to enjoy the show. The high winds though were reeking havoc with things on the stage and knocked the fence around the stage down several times.

After Diane's show I went to the Songwriter's Haven and saw Cindy Kalmenson (left) and Jill Knight.

The Arts and Crafts were the usual stuff, except for one. I really liked the works of Angela Bond although I didn't see anything in particular that I liked. Maybe I'll commission something later.
Eva's Birthday Party at the Martini Girl Art Gallery and Fashion Boutique was a really good time. I brought my camera and became the official photographer for the night, which was fun. Everyone misbehaved and several embarrassing pictures were taken with Eva's red wigs. Eva had made some smoking jackets for Hugh Hefner and everyone was voting on which one to send him. So we decided to take pictures of everyone wearing the jackets and that's when the real fun began. Holly, of Andy and Holly, volunteered to do a one women fashion show which was a big hit.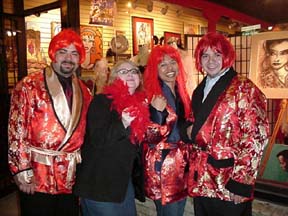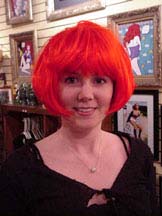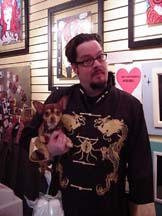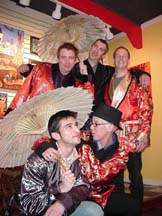 I saw Hellboy and enjoyed it. The mood was dark, but that's the comic book. It was enjoyable and that's what matters.
Ahh, The joys of home ownership - like a $5,000 bill for a new roof.
March
After Six years in Atlanta, I finally made it to Six Flags over Georgia. And the best I can say is, I'm getting too old for roller coasters. We had a good time but walking around for hours isn't as much fun as it used to be. And the rides aren't as scary when you know nothing is going to happen. And the lines, well that is something I just don't need anymore. It's expensive too. The funniest part was the water ride where an annoying little kid got totally soaked while I was bone dry.
For the record book - My kitty brought me a mouse this morning. It was the first gift from her - Maybe it was a 6 month anniversary gift. I knew this was coming when I got her her own door.
Salome's Wish put on a good show at the 9 Lives Saloon with Entertainment and Bella Morte. The crowd was very cool but too much for the tiny venue.
I'm job hunting again! A move may be involved. An incident at work opened my eyes to something that prompted me to consider my options and my future. Details to follow.
February

Photo by Karlita

Emily Marilyn performed and signed books at one of the last events at the Chamber. She was both beautiful and friendly as I had the opportunity to speak with her for several minutes. She put on two shows and the audience really enjoyed it - Even if many of them didn't know who she was.

The event was bittersweet as the club is closing after a ten year run. Obviously the new municipal mandated closing time is a major factor. The crowd really didn't show up for this event until 1am and the party was just starting to roll at 3am when the main lights suddenly came on and the staff started pushing people out. It was a shocking sight to see all those people dumbstruck that the party was ending so early!?
Groundhog Day predictions conflicted among the nations prognosticators but General Beau Lee of the Yellow River Game Ranch said Georgia will have an early Spring.
January
I went to see a celebration of the Chinese New Year at the Chien Hong School and was disappointed. I arrived a little late and I guess I missed the traditional lion dance. Then I sat through an hour of class recitals (karate) which was not very exciting. I was expecting there to be food too, but there wasn't. Oh well.
Hedonism III, an art exhibit at the Apache Cafe, was fun. There were paintings and photographs but the really exciting exhibits were the live models who were decorated in body paint. It got crowded too quickly so I left, but I did enjoy it while I was there.
Denise King put on an art exhibit, "Angel is a Centerfold" at the Martini-Girl Art Gallery and Fashion Boutique which was nice. The drawing were not very exciting because the quality wasn't very good but the sculptures were excellent. Denise was very interesting and I enjoyed talking with her.
Some friends and I went to Spice in Midtown for dinner and while we had a good time we will not be going back. The ambience was nice but too loud and the food was okay but over priced. They spent too much effort on making the place look pretty and not enough on making the food taste good. The desserts were especially small and unremarkable. The wine list and appetizers were the highlight of our meal.
| | | |
| --- | --- | --- |
| Carla Ulbrich | Carla Ulbrich & Grant Livingston put on a wonderful show at Dreamcatcher Guitars in Roswell. It's a little venue adjoining a guitar shop that is more like a living room than anywhere else I've seen. We sat on folding chairs and ate pizza as they played and joked only inches away. All they songs were very amusing and the joking around was wonderful. They even had door prizes and a guest guitarist - the famous "One Grit" Joe Giacoio. Carla said the new CD in finished except for the graphics and is coming soon. I can't wait. | Grant Livingston |
Once again I had a disappointing night at the Echo Lounge for the Friday night Elvis Birthday Tribute. I thought the show started at 9pm. At 10:30 a comedian named Rodney King came out. He was terrible, but I guess that was the joke. Finally at 11:30 Kingsized started to play. I left around 12:10 because I was just too tired at it was too crowded - I get up at 5am on weekdays you know. So I don't know if the Dames A'Flame Burlesque show ever happened. The place was full at 9pm so the show should have started on time and not taken all night. That's why I couldn't stay and why I'm really disappointed.

Susanne, John, Scooter, & Jason

The Helgas put on an In-Store show at Tower Records to celebrate their new record deal with Pelado records. A fair number of friends and family showed up, which was very cool.

When I got home I updated the website with pictures and sent them out to everyone for review and comments. The next day, when I went to update the website with the new show schedule, I discovered they'd redirected the domain name to a different website. After three years as their website creator and manager, they switched to another without even hint of a notice to me.
Ain't Rock & Roll great!
Happy New Year! While I didn't do anything special for the winter break, I did go bar hopping for New Year's Eve. That was nice.
You can still visit the news archives from: 2003, 2002, 2001, 2000, 1999, or 1998.
All pictures are the property of Stefan and are not to be posted on other websites or published in any medium without express written permission. Questions, comments, and corrections are always welcome.
---
Created Oct. 10, 1995
Updated 9 Jan 2005
© 2005 Stefan Oestreicher.
All rights reserved


spunbystefan@yahoo.com