December
Happy New Year!!
I think it's fair to say I was amoung the first Americans to see the opening of Lord Of the Rings at a public screen. (Details for this boast are NOYDB) It was excellent. I had some complaints, but I'll hold them until everyone else has had a chance to see it. I think it's fair to say that we are all disappointed that we have to wait a year for the next one.
Ramadhan has finally ended. It seemed like a really long month. Most people think it's the Muslim equivalent of Christmas but that's actually very wrong. It's more like Lent. Upon the start of the Muslim holy month of Ramadhan, the Muslims fast (no food or drink) from sun up to sundown and give up smoking and other pleasureable persuits. At dusk, they have daily parties to break the fast: traditionally with dates, cookies, and other sweets. Then they celebrate the end of Ramadhan by exchanging gifts. Since this year's End of Ramadhan (Eid-ul-Fitr/ Hari Raya) is about the same time as Christmas and Hanukkah the stores are having huge sales! Too bad the economy is so sluggish.
What's really fascinating is what happens in the evening. Muslims don't keep food in their homes during Ramadhan, so at night they they go out for dinner en masse. All over the cities, hundreds of stalls spring up in the shopping areas and on the streets selling food, cookies, and candy. As dusk approaches, thousands of Muslims swarm to buy dinner at the stalls. Then they'll sit down at the tables around the stalls, and stare at their food, but not eat, patiently waiting for the evening prayer call to announce the end of the daily fast. Meanwhile all around them, the non-Muslims are eating and talking. It's unreal.
November
Sonia and Segaran were my hosts for Deepavali (Diwali) - the Indian Festival of Lights. They invited me into their home as they celebrated the victory of good over evil and the lifting of spiritual darkness.

Traditionally, homes are decorated, oil lamps and candles are lit, and huge feasts are set with tradional foods and sweets. Families usually gather together (like our Thanksgiving) or travel from home to home visiting friends and distant family members.

The pink guy is Lord Ganesha, the God of knowledge and the remover of obstacles, the older son of Lord Shiva. (read about it)
Nov 11th would have been my Grandfather's 95th birthday. He died two years ago but I still think of him often. He taught me many things, like the game of chess. I saw a beautiful Chess set recently and it reminded me how much I miss him. He had a good life, had many children and chandchildren, and got to see the new millennium. I remember fondly going to his anniversary party at Windows on the World at the top of the World Trade Center in NYC (Now that too is gone).
October
Xxxx, Xxx, xxx X xxxx xxx xx Xxxxxxx xx Xxxxxx xxxxx. Xxxxxxx xx xxx Xxxxxxxx xx Xxxxx Xxxxxx. Xxxxx xxx xxxx xx xxxxxx xx xxx xxx xxx xxxxx xx xxxxx xxxxx xxxxx xx xxx xxxxxx xxxxxxxx xxx xxx. Xx xxx x xxxx xxxxx xxxxxxx Xxxx xxx Xxx xxx xxxxxxx xx xxx xxxxxxxx xxxxxx xxx Xxxxxxx xxxxx. Xx xxxxxxx xxxxx xxx xxxxxxxxx xx xxx xxxxxxxxx xx xx xxxxxx xxx xx xx xxxxxxxxxxx xxxxx xxxxx. Xxxxx xx xxx xx xxxxxxxx xxxxxx xxxxxxx xxx xxxx xxxxx xxxxxx xxxxxxx xxxx xx x xxxx xxxx. Xx xxx xxxxxxxxx xx xxx xxxxxxxx x xxxxxx xxx xxxx'x xxxxx xxxxxxx. Xx xx xxxx xxxxxxx xxx xxxxx xxx x xxxxx xxxxxx xxxxxxx xxxx xxx xxxxxx xxx xxxxxx. xxxxx xxx xx xxxxxxx xxx xxx xxxx xxxxxxx xxxx xx x xxxxx xxx xxxxxx xxxx xx xx xxxxxxx xx xxxx. Xx xxxxx xxx xxxx xxxxx xxxxxxxxx.
| | |
| --- | --- |
| Xx xxxx xx xx Xxx Xxx xx Xxxxxxxx xxx xxx xxxxxxx. Xx xxx x xxxx xxxxx xxx xxx xxxxxx xxxx xxxx xxxx. Xx xxx xxxx xxxxxxx xxxx xxx xxxx xx xxx xxxxxx xxx xx xxxxx xxxxxxx xx xxxx xx xxx x xxx xxxxxxxxxx. Xxxxxxxx xxxxxxx xx xxxxxxx xxx Xxx Xxxxxx Xxx (Xxxxxx Xxx Xxxxxx) xxxx x xxxx xxxxx xxxxxxxxx Xxxxxx xxx xxx Xxxxxxxxxxx xxx xxx xx xxx Xxxxxxxxx Xxxx. Xxxx xxxxx xx xxxx xx xxx Xxxx Xxxx Xxxxxx xxx xxx Xxx. Xx xxx xxxxx xx xxx x xxxxx xxxxx xxxxx xxxxxx The Lion Band. Geetha, the lead singer, was kind enough to sing two Joan Jett songs for me. We had a great time. | |
| | |
| --- | --- |
| | Xxx xxxx xx. X xxxx xx xx xxx xxx xxxx xxxxx: Xxxx xx I xx xxxxxxxxx xx xxxxx xxxx xxxx. Xx xxxx X xxxxx xx xxx xxxxx xxxx the Corrs xxxx xxxxxxx, xxxx X xxx xx xx. X xxxxx xx xx xx xxx xxxxxxxxx xxx x xxxxx xx xxx xxxxxxx xx xxx xxxx xxx xxx xx xxxx. Xx xxxxxx xxxxxx xxxx xxxx xxxx'x xxxx xxxxx X-xxxxxx xxx xxxx xxx'x xxxxx xxxx xx xxxxxxxx xxxx. Xxx xxx xxxxx xxx xxxxxx xxxx xxx xxx xxxxxxxx xxx xxx xxxx. Xxx xxxxxxxx xxxx xxxx xx xxxx Xxxxxx xxxxx xxx xxx xx xxxx. Xxx xxxx xxxx xxxx'x xxx xxx xxxxxx. Xxx xxxxxxx xxxx xxx xxxxxxxxx: X xxx xxxx xxxxx xxxxxx xxxxx xxx xxxx xx x xxxxx. |
Xx xxxx X xx xx Xxxxxxx. Xx'x xxxxxxx xxx xxx xxxxx. X'x xxxxxxx xx x XXX xxxxxx xxx XXXXX xxxxxxxxxx xxx X-XXX xxxxxxx. Xx xxxxxxx'x xx xxx xxx xxxxx xxxx X'xx xx xxxx xxx xxx xxxxxx.
September
I went to see Diana Obscura & Paul Mercer at Cirque Noir, a goth night thing at Innovox. No one was really up to it, so they played one tribute song and called it a night. I left almost immediately after that.
Today, Sept. 11, 2001, I am stunned and angry by the killing of thousands of innocent people and the destruction of the World Trade Towers. I had family living adjacent to the WTC but was lucky enough to get word that they survived. This was an unprovoked attack against the innocent. We were not at war or even under the threat of war. If this nation is going to be the victim this kind of violence for supporting peace world wide, then I feel we should take the role seriously and actively punish those who engage in these acts of terrorism and those who aid them. We often condemn other countries for their aggressive acts of retaliation against terrorism: Today we received a painful lesson. Sometimes the freedoms we enjoy have to be paid for in blood: Sometimes we may be called upon to fight to protect these freedoms.
| | |
| --- | --- |
| | DragonCon 2001 has ended but my work is still days from complete. The schedule was a little mixed up, but, thankfully, the people were as outlandish as ever. I ran into these two Blue Meanies at one in the morning. Later, they went on to win the costume contest. The Dawn Contest was also very nice and the beautiful goth babes were plentiful. Several bands were great: I really enjoyed Diana Obscura, Nothing Inside, and the Changelings. The photo gallery is not finised. But you might get a peek here. I need sleep!! |
August
Lauren Fincham was nice. She played a small coffee shop in East Atlanta called Sacred Grounds. It was a very small show.
I went to the Reflection at the Speed of Flight gallery opening and enjoyed Tsubasa's artwork. The images are erotic, high-tech super fetish images done on computer. Most of the digital paintings were of high-heel shoes and cyber-women. I thought it was well done, but the exhibit was too small. I also think asking $800 for a poster that can be reprinted an unlimited number of times is unrealistic. The exhibit was at the Friction Gallery just behind the King Memorial.
| | |
| --- | --- |
| | Carmen and friends at the Echo Lounge put on a second benefit for the East Atlanta Animal Rescue. After Elliot, Puddin' opened the show with their brand of metal mayhem. Next came the beauties of Catfight!, who always put on a great show. I especially liked Katy's new song, "We Make Everybody Sick". (Katy's got a secret!) Taking the stage after the girls, were they boys of the X-Impossibles. With a little help from Heide, these speed metal guys rocked the house hard. Finally, at about 1am 6X got on stage and put on a really great performance. Tim even gave blood. It was a really great show for the cause and raised $2000. A "Spanking Good Time" was had by all. |
Bernie Nelson, Kostas and Craig Morgan put on a nice show at the Swallow at the Hollow in Roswell. Still, I'm greatful they're writers not singers.
Rush Hour 2 was typical Jackie Chan. Wild, unbelievable action and silly comedy.
Mira returned to Atlanta to play the Nomenclature Museum. It was a nice show but they really overwhelmed the acoustics of the venue. Happy Birthday Tina! (1 Aug)
July
Although I'm not a big fan of Marky Mark, I did enjoy Planet of the Apes.
Contrary to what you may have heard, Der Krieger und Die Prinzessin (The Warrior and the Princess) was not as good as Lola Rennt (Run Lola Run). The characters were trapped in a bizarrely contrived situation and the story is just too weird. I'm a hopeless romantic and still don't believe they could have gotten together they way they did. Besides, I can't relate to criminals being the good guys - even for love.
Jurassic Park III was good. They were actually closer to the book than the first movie and went back and corrected some mistakes. Like Sam Neil's character and Laura Dern's being involved: they weren't and this movie explains that. The premise is actually plausible. It's a much faster action movie but is a little short, only 90 minutes. I was expecting a little more. But it's got plenty of bloodshed and of course excellent visual effects.
Day 5 I finished my 6 concerts in 5 days marathon with Christopher Williams, Paul Melancon and Bill Kahler in the Round at Eddie's Attic. Except for a totally absent waitress (Shenae?) it was a very enjoyable night. It begged the question, "How bad does a waitress have to be to NOT get a tip?" (Note: The place was empty and so was my glass for the entire two hour show)
Day 4 Gene Nelson, Craig Carothers, and (my favourite) Don Henry put on a really good show at the Swallow at the Hollow. I try to avoid Saturday nights because it was so crowded but couldn't avoid it this time - the place was a mad house! But the boys were very funny and sang some great songs, so it was worth it. I even got Don's new CD - Live at the Bluebird Café.
Day 3 The Changelings put on a really good show at The Echo Lounge with Tourmalin and Mira. The music was really good but it started late and ended even later which disappointed many.


Mira's lead singer Regina
and bassist Melody

Tourmalin was a weak opening act. They were trying to coordinate three live people with a prerecording (via laptop) and their guitar player looked bored out of his mind. They had several problems and frequently, the band finished but the computer kept playing. It seemed unorganized and the crowd turned on them like sharks, which didn't improve the situation.

Luckily, the Changelings came out strong with a lot of new material, a more electrified sound, and a Pink Floyd cover that blew the crowd away.

At about 1:15am Mira finally got their turn on stage. Some had left for bed, but those who persevered were treated to a really good show. Regina, of the blue hair, filled the room with her beautiful voice and harmonic chanting similar to Mazzy Star. After the show I was disappointed to discover I'd missed out on Apart, their new CD, because they SOLD OUT. Oh well, they'll be back. [alternate link]
After two hours of blues music (below) I raced over to the 9 Lives Saloon to see Sins of Lust for my regular dose of gothic-heavy metal music at midnight. Their musical style and high-shock-value floor show was very entertaining. I was a little disappointed though that they only played 40 minutes but the room was very hot. Even when they got naked they were sweating pretty bad. I missed the opening band, Children and Chainsaws
Day 2 Diane Durrett, Donna Hopkins, and Liz Melendez played a really nice In-the-Round set at Eddie's Attic. Donna started the evening upset, but the audience and Herr Jegermeister cheered her right up. Liz gave Rock history lessons and geography lessons in addition to wonderful guitar playing and singing. Diane, the reason I went, was her usual great self. They played a few cover tunes as well, which was nice.
| | |
| --- | --- |
| Diva Destruction | Salomé's Wish |
Day 1 Diva Destruction and Salomé's Wish put on a good show at Nomenclature Museum. The usual goth crowd was there for the midnight concert. The music was gothic-darkwave; loud yet ethereal. I really liked the music, but the poor acoustics really detracted. Of course I had to miss work the next day.
I saw the new computer animation flick, Final Fantasy. The animation was really good, especially the heroine and the monsters. The story, some mother Earth - all things connected spiritual thing, was the weak point. The love interest dying was also an Eastern movie thing that I didn't like. I prefer the good 'ol happy ending. Call me a closed minded Westerner.
Yes I saw Evolution. It was as bad as you thought.
| | |
| --- | --- |
| | After work a few of us went to the Hefeweizen Low Country Boil Summer Party at Gordon Biersch. The freshly brewed beer was wunderbar! I mean really ausgezeichnet! Beer cannot taste any better. The food, (we had boiled shrimp, crawfish, and wings) was fair. Not what I'd expected, but it was a nice place and we were there for the beer. Did I mention the beer was Great! |
Truckadelic's Farewell Show at the Star Community Bar was really good. Old No. 8 opened with Bible inspired hillbilly rock that was shaking the building. Then Truckadelic came out in jackets, ties, and boxer shorts and commenced to jammin! I tried to hang but the show went so late I had to bail. Too bad too, the party was just getting started and the place was so crowded we couldn't move.
Billy Idol put on a wild show to a packed house at the Tabernacle. It wasn't as high-energy as shows past, he toned down many of his rock anthems with slower more romantic/acoustic sections, but the balls-out rocker didn't disappoint. He did all his big hits and closed with MONY-MONY and LA-Woman which he changed to GEORGIA-Woman just for us. Steve Stevens was excellent and his use of a toy gun against his guitar for special sound effects was amazing. There was no opening band so they introduced Billy Idol to the theme music from UFO. It was a British series and Billy is out-of-this-world, so I guess that makes sense. Besides great music there was plenty of goth-babes, audience nudity, throwing of underwear, and grabbing of genitalia. Billy Idol wore his stock-and-trade leather pants but the heat made him change his T-shirt three times. The thunder storm outside wasn't a factor at all!
June
| | | |
| --- | --- | --- |
| I made the trip up to Nashville to see Barbara Bailey Hutchison play the Out on the Deck Summer Series at Bev & Ann's House. We thought it was going to rain, but mother nature cooperated and the show was a success. Barbara and Julie (Schrader) Rust played for about an hour each under the moonlight. Barbara made several | | comments about me to the crowd for driving four hours to see her which made me a star for a night (I'm still not sure if that was good or bad). But Rusty was abused even more for writing all the evenings music and blasting his electric guitar inappropriately. It was a lot of fun for everyone. Okay, Rusty didn't really write all the music, that's just a little inside joke. |
Kieran Kane, Kevin Welch, and Claudia Scott put on a nice show at The Swallow at the Hollow in Roswell. It wasn't great, it wasn't bad, it was nice. Claudia is beautiful but had never played in the USA before (she's from Norway). Kevin Kane has been in the business for years and writes really well, the singing is better left to others. Kevin Welch was very good: his singing, writing, and playing were right on the money. Unfortunately they were not taking the night as seriously as they should have. They started late, messed up several songs, and spent too much time bantering with the audience instead of singing. They didn't fill the banter with stories just weather and crap.
With lyrics like, "Fuck Me! Fuck Me! Let's break out the Tits and Whiskey", "Once you've given head nothing ever tastes the same", and more, it's easy to see why Mary Prankster is so popular. Their style of rapid-fire In-your-face punk rock just amazed the crowd at The E.A.R.L and sold a lot of T-shirts and CDs. I can't wait for them to come back. Can you imagine them on a double bill with Catfight!? put on a good show too, but Mary Prankster was a tough act to follow.
Jennifer Daniels put on a nice show at Eddie's Attic, but she didn't have her usual range or energy. I think she had a cold. She did add some funny stories though. And Jeff scared everyone with his electric guitar.
Lara Croft: Tomb Raider was your typical action adventure movie. It was fun fluff, but nothing great. The plot was predictable and the special effects impressive though far fetched.
Another great night at The Star Community Bar with 6X, the Helgas and the Moto-litas driving everyone into a dancing bouncing frenzy.
I caught the preview show of Much Ado About Nothing at the American Shakespeare Tavern. It was a little rough, but it's a great story and they did a wonderful job. Go see it: It's a tragic love story with a happy ending.
Jon Michaels put on a really nice shows at Eddie's Attic. It was late on a Tuesday and I had hoped for a bigger audience, but it was still good.
Moulin Rouge was a very strange movie. Set in 1899 Paris it tells the tragic love story between a French courtesan and a young English writer. After a strange and confusing opening, the two lovers end up performing a bohemian love story on stage at the Moulin Rouge. It should not be surprising then that the movie becomes a fast moving bohemian romp. Sometimes the movie is a musical, sometimes a drama, and sometimes a comic farce: It's almost Shakespearean. The costumes and the plot are actually very good, but the dialog, well it's way too strange. Mostly, the script consists of modern day song lyrics. If you don't mind the bizarre, you might enjoy this movies.
It took Marc Beeson, Richard Leigh, and James Dean Hicks a while to warm up, but in the end, their show at the Swallow at the Hollow was very entertaining. Between the three of them we heard at least a dozen top ten country songs spanning three decades.
May
Shrek the movie was excellent. Although primarily aimed at children, it had plenty of jokes for the older crowd. It had slapstick, intellectual humor, and a heavy load of double-entendre. A must see, with or without the kiddies. Mike Myers is amazing.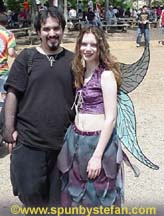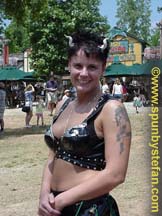 We spent the day at the Georgia Renaissance Festival. It's always fun to shop, drink, and enjoy performances like The Ded Bob Show and Offutt the Minstrel. The Four Horsemen of the Apocalypse were also very entertaining and really funny. My favourite part though, has to be the people watching. Many people come just to play dress-up; pirates, daemons, and ladies-in-waiting are everywhere. I love their spirit of adventure.
I was very curious about Holly Hughes:Preaching to the Perverted. She'd been one of four artists whose funding was cut by the NEA and pursued it all the way to the supreme court in a famous case. It should have been and interesting presentation about free speech and individual rights. Instead it was a boring two hour rant about, "Everyone hates me because I'm gay." -- Just because an artist happens to be gay doesn't mean their art is good or they are owed federal funding. Nor does it mean those who dislike their art are automatically homophobic. -- The show was very unorganized, poorly written, and extremely disappointing. 7 Stages loves controversy. Unfortunately, in this case, that wasn't enough to make a worthwhile show.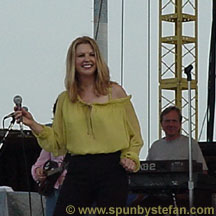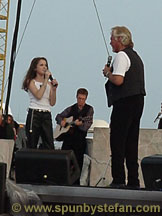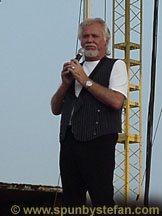 Patty Loveless and Kenny Rogers put on a great show at the Spring Funfair in Conyers. Of course I had to sit through a rain shower waiting for them to come out, but it was worth it (add another item to life's checklist). The sun finally came out and the was great! Patty was awesome singing many of her big hits including That Kinda Girl and I Try To Think About Elvis. Kenny also drove the crowd wild with his numerous hit's including Coward of the County, Lucile, Ruby, and the Gambler. I even enjoyed his duet with an up-and-coming 13 year old named Jillian Arciero who usually performs with her sisters in The Little Women. Also called Country Fair, it was held at the Georgia International Horse Park and also featured carnival rides and lot's of food.
David Byrne (Talking Heads) put on a good show at the Roxy but I would have been happier if he'd played more of his hits and less ballads and Whitney Houston.
Late, late Saturday night I found myself at The E.A.R.L drinking beer and munching on boiled peanuts waiting for Flash to Bang Time, the Yum Yum Tree and Dropsonic to come out. It was a good show but jeez it ran late!
I keep getting E-mail from Something Left After Misfortune.. So I went to their show at the Dark Horse Tavern. They play well, but I'm just not into that angst/rap stuff like Faith No More or the Red Hot Chili Peppers.
The British Motor Car Club of Atlanta brought hundreds of antique automobiles to Château Élan for an open air car show. There were Sunbeams, and Jaguars, and Mini's, and Rolls Royce's and Triumph's and Lotus's and even a Delorean. WOW!!
We tried that new Brazilian steak house, Fogo de Chão in Buckhead. It was great! After perusing the very exotic salad bar we sat down for a feast of meat. The caballeros walk around with skewers of 15 different meats and slice off pieces on to your plate until you drop or explode. It's a meat orgy! It's pricey, about $50 a person, but we really enjoyed ourselves.
Several people got dressed up for Prom Night at the The E.A.R.L. with the the Helgas, Catfight!, and the Nowhere Squares. But that other music bash stole the audience and the life from the party. Still, it was fun, and the Helgas were very good. I posted a few pictures.
I went up to Roswell again to see Don Henry, Craig Carothers, and Gene Nelson at the Swallow at the Hollow. It was a pretty good show but not a great turnout, I guess a lot of people were at that other music event. Don and Craig did mostly fun/funny songs while Gene sung emotional ones and big hits.
Russ and Jill gave me their preview pass to The Mummy Returns. It was very good. It had good action, good plot, and great special effects. What I liked most was that, unlike many other recent movies, they had a little kid in the movie to attract younger children but didn't "Dummy Down" the movie for them. Kids don't want to be patronized but want to be challenged. My one disappointment was the effects for the Scorpion King - He looked too fake.
April
I had an unexpected trip to Destin Florida, the Redneck Riviera. The weather was beautiful and I had a good time. We ate at Café Grazie, fine Italian food, which I can easily recommend. AJ's on the other hand I'd suggest you skip.
I saw the Elton John and Billy Joel concert at Phillips Arena. Billy was excellent.
Octoberfest came to Atlanta a little early this year: And it was FUN. [see the pictures]
I had another really fun night at the Swallow at the Hollow with Rich Fagan, Kacey Jones and Joe Collins. Most of the songs were very very funny. Kacey is too much fun to be believed: and she's not bitter!
Congratulations to Doreen and Paul at the Swallow at the Hollow on the birth of their daughter, Abby on April 16th.
I finally made it to open mic night at Eddie's Attic and while most of the bands really sucked there were a few jewels in the mix I'd really like to see again. IMO the best-in-show was Jon Michaels, from Nashville, who performed I Hear a Clock, Check Please, and Stones: He made the final three. Ethan Daniel Davidson was also excellent, with his "Anti-folk singer" persona - sort of a Arlo Guthrie/ Bob Dylan sound, and should have made the finals. Liquid Pie won the evening and while I agree they were very good, they were not the best.
Mitsu Bitchi formerly of

Pinkeye

opened the party!

Sat. Apr. 14 will go down in history as one of the most memorable nights ever at The Star Community Bar. The show opened as BOSS (formerly Pinkeye) warmed up the crowd with their own version of girl-punk-power. I love their song, "Godzilla"

Next came the tribute band Pretty Vacant. Not only do they look and sound like the Sex Pistols, they trashed the venue just like the old days. There were cups and bottles flying onto the stage and several people spit their beers at the band, drenching the performers. It's the first time I'd ever seen them wash down the stage between acts. Someone even had to get medical attention

At about 1am the girls of the evening, Catfight!, took the stage. Katy had been drinking for hours, but still managed to belt out the tunes as Jennifer and Susanne drove the crowd crazy. Susanne's hot outfit and suggestive comments didn't hurt either. "It's Easter, so my vow of celibacy for Lent is over." Several pairs of underwear (bras, panties, and boxers) were thrown onto the stage and the girls took turns trying them on. It was hilarious!

The show concluded with several guests joining the girls on stage including Heidi Bartel and Shawn Christian from the X-Impossibles and Kim Breeden from Puddin'. It was a great night!
Christopher Williams' first headline at Eddie's Attic was pretty cool. Daniel Lee opened, he's okay, but not ready for the prime time. Christopher was really excited and his playing was better for it. He took many opportunities to jab at a Nashville critic that was unkind. While I agree that his music can be hopelessly romantic at times, it's still pretty good and fun to listen to.
I caught the second appearance of Flash to Bang Time at The Star Community Bar on a Wednesday night. They performed their interesting blend of darkwave chanting and punk guitars and strings to a small but enthusiastic audience. It was late so I didn't stick around for Kickstand. The third band cancelled.
Clandestine, a great Celtic rock band from Texas (think Riverdance music) put on an awesome show at Eddie's Attic.
I went to a Benefit for Homeless Pets at The Echo Lounge but left before the best bands came on. It was very late and it had been a long day: but the band, Adom, was pretty good. They remind me of the early Police.
Jon Michaels, Paul Jefferson, and Ray Herndon put on an incredible show at the Swallow at the Hollow. You don't listen to Jon Michaels: You feel the music - It's an emotional experience. His songs take you on an journey from sorrow, to self reflection, to pure joy and comic laughter. His lyrics make you reflect on life and, at the end of the show, it may take you several minutes to compose yourself. Thankfully, there were humorous anecdotes and funny songs mixed in or we'd all have left in tears. Ray Herndon plucks his guitar so well, it's easy to understand why everyone in Nashville wants him to play on their albums. Paul Jefferson's easy style and Texas twang reminds me of Lyle Lovett without the wild hair. This was a wonderful grouping of singer/songwriters at an amazing venue for a memorable night. They didn't just get uproarious applause, they got a standing ovation. Y'all missed something great if you weren't there. [read full review]

Well, we went to the movie premiere of Josie and the Pussycats and our review it: It was very cute. I thought the product placements were overwhelming and there was way too much music but they were faithful to the comic book and the plotlines were nice, though predictable. There were some laugh-out-load moments and the pussycats were cute but I'm just not sure it's enough to draw huge crowds. It pretty much self-parodied itself making it hard to say, "You should go see it" I predict it will disappear after a few weeks and everyone will wait for the video. It's a good movie, but not really worth full price. Opens in wide release April 11th. Hey, where's the McDonald's cups?
I got passes to the premiere of Just Visiting, a romantic comedy staring Jean Reno and Christina Applegate. From the commercial I thought it was going to be a farce, but it's actually a very witty comedy - and it was very good! We haven't seen Christina since that awful series, Jessie - and she's not going to win an Oscar or anything, but she's cute and funny. We know Jean Reno from several action movies like The Ronin and Mission Impossible but he's got comic timing and does the straight man (a la Laural and Hardy) very well. He actually made this movie several years ago in French and is now doing it a second time in English (and in Chicago). Tara Reid who's also appearing in Josie and the Pussycats is adorable. Don't take my word for it - Go see it yourself, it's at least worth a matinee. And it's a romance, so bring a date!
March
Even though I don't own a house, I made a trip down to the Atlanta Home Show. It was pretty interesting. There were several Jacuzzis, mop demonstrations, window dealers, gutter guard displays and chefs, but I was more interested in the electronics and home accessories. The Stone Mountain Harley-Davidson fashion show was an interesting side-note.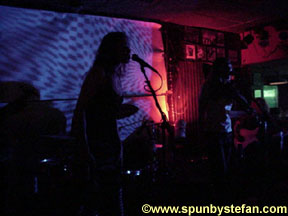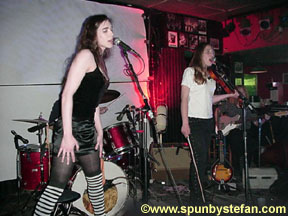 My favourite cello player, Diana Obscura, performed with Flash to Bang Time at the Star Bar on the 30th. There was a big article in the Creative Loafing which mentioned a famous and local relative that attracted a curiosity or celebrity seeking crowd. This was disappointing because they talked over and ignored some really good music. It was a shame because Yum Yum Tree and Alastor weren't bad. Flash to Bang Time had the lights turned off for some 60's style lighting effect: so my pictures came out either too dark or without the cool effects. Which is better? [stay tuned for more pictures]
The Conyers Cherry Blossom Festival was an interesting collection of arts and crafts and food. The kids were more interested in the balloon slides and the horseshow though.
| | |
| --- | --- |
| | The Jennifer Daniels Dive and Fly CD release party on March 23rd was a lot of fun. Darin and Jennifer accompanied me to Eddie's Attic for the really cool show. It was the first time I'd ever seen, Jennifer Daniels accompanied by a backup band (guitar, keyboard, bass, and drums) and another singer (Claire Holley). The extra instruments really added a fullness to her music that had been missing: especially the percussion. Also special was the huge turnout, which was probably thanks to a great article in the Creative Loafing. It really energized the room. It was a great show! |
I celebrated St. Patty's Day at the The Echo Lounge with the Moto-litas, the Marianne Faithfuls, the Features, the Modeltones, and the Lizardmen. [Click here to see review]
Enemy at the Gate, a WW-II movie about the battle of Stalingrad, took several liberties with history - which I didn't like. But it was still a good movie. Jude Law and Ed Harris were very good. It presented a unique perspective of WW-II while telling the old story of love-in-war. I knew from history how the story would end, but the subplots of political intrigue, espionage, jealousy, and ambition made it exciting.
I had a very enjoyable evening with my new friend, Johnny Walker. We drank some Scotch whiskey, learned about the manufacturing process, learned about Scotland and really had fun. The food was pretty good too. Thanks Dwight and Keith. Let's do it again.
I saw Jim Robinson, Gene Nelson, and Jerry Salley at The Swallow at the Hollow Fri. Mar 9th. The set was somewhat looser than normal, but I guess they can't always be wonderful. I tried the turkey, which was disappointing too - Stick to the BBQ. But they had some good stories and some really good songs so I still had a pleasant evening.
Remember the good ol' days of Automobile Shows? Men would go to car shows and look at the beautiful cars and beautiful women? It was a manly place where men could be the animals that they pretended all day not to be. Brand new cars and women in bathing suits: Life was great. [Insert Tim Allen grunt here]

Not any more! I just returned from what I would describe as a women free zone: The Atlanta International Auto Show. Sure, there were a few couples and a few of the sales people were women, but gone were the bikini-babes of years past, laying across car hoods and smiling wide for all to see. Does that make me a Neanderthal? Maybe, but that doesn't diminish the loss I feel. Sometimes, political correctness leaves me wanting.

There were very few concept cars and no 2002 cars either: I was very disappointed. I watched the Detroit Car Show on TV and was amazed by the huge number of concept cars and even the new BMW Mini was unveiled. Why couldn't they do that in Atlanta?

My thanks to the one exception: Chevrolet had a beautiful Corvette display. It's been modernized, but still retains style and class.
I really want to say something nice about the Alice in Wonderland put on by the Soul-stice Repertory Ensemble at 7 Stages in L5P. But there was no set, no props, and no costumes. They barely stayed with the story, instead injecting hundreds of modern day references and songs. It was cute, interesting and I had fun - but I wouldn't say it was good.
February
That family was foolish enough to let me tag along to the Ringling Bros. and Barnum and Bailey Circus. We all had a great time. [maybe some photos later]
The 6X, White Lights, and Bleed show at the Star Bar was fantastic. [Read Review]
It's been a long time since I'd seen Christian-Durand perform, and I'd missed them New Year's Eve when I was stuck at the airport, so I was very excited to see them appearing at Eddie's Attic. Their set was shorter than I'd hoped, but it's easy to forgive them anything. Their beautiful lyrics and amazing harmonies made for a great show.

I don't ever want to be kicked out of a venue or interrupt a show when I take pictures: So before the show I asked Lisa Durand if it was alright. She was very gracious and said "Please do." A few minutes later, into the third song, I get up to take a picture and Lisa Christian screams "picture" and stops the show as she runs over to Lisa Durand to pose for the photo. I was a little embarrassed but the picture came out great! Sorry for the interruption everyone.

Beth Wood came out next but I ran off to catch the Snake River Conspiracy show which, unfortunately, was SOLD OUT. I'd seen Beth Wood before and I'm sure will get the chance again. She's very good.
Romeo and Juliet at the American Shakespeare Tavern was great! They played it better than I've seen it done anywhere else! The first half was happy and full of love which make the tragedy so much more powerful in the second half. Trent Merchant as Benvolio and Jennifer Akin as Juliet were perfectly cast. Peter Hauenstein as Romeo and Tony Brown as Friar Lawrence were also notably good. The sword fights were very well done and Juliet's balcony scene was truly memorable with Romeo climbing the set and kissing her while dangling high above the stage. I wouldn't have objected if the lights were a little brighter for the final scenes.
Chocolat, a foreign film about tolerance was beautiful. Set in a small French town, it tells the story of the town's narrow mindedness and the dangers that it encourages. Our heroine is a women who opens a chocolate shop during Lent, which the mayor finds appalling: beside she's an unwed mother which go against his moral ideals. The struggle between the mayor and the shop owner mirrors society's struggle with people who are different without being too heavy handed. Of course the scene where the daughter takes the abuse for the mother's action is heart wrenching and the gypsy people are an obvious plot devise, but you'll love this movie anyway. My favorite part was the mother's stories - you'll probably get fixated by the effects of the raw cacao nuts. Christen Dunst was amazing!
Feb. 17 The Moto-litas and the Woggles put on a good show at the E.A.R.L.. The opening act, Model Citizen needs a lot of practice. The bass player spent most of his time posing and pointing instead of actually playing while the guitar player just needed to stop singing. The drummer is awesome though, and it was amazing to watch him set his drums and the stage on fire! The Moto-Litas were both beautiful and very enjoyable with their own variety of modern surf music. They invited everyone to play nerf-basketball with the winner getting a free CD. Mucho funn-o!
I finally checked out Club Kaya where I saw the bands Nashville Pussy and Boetz. Kaya has received many accolades as a venue and I have to say I agree. The place is huge with great sound, lighting, and easy access to the bars. But it cost me $5 to park, $15 to get in and $6 for my first mixed drink. That's $26 just inside the door. Then the music didn't start until 11:00 (on a Thursday) which I thought was rude. There was an hour break and the main band didn't come out until 1:15. I don't know about the rest of the people there, but I worked on Thursday: staying out past 2am was not going to happen. So despite investing $26 I left and missed most of Nashville Pussy. I will not be going back to Kaya any time soon. Jill Kelly was awesome! Nashville Pussy and Boetz are good Southern Rock bands in the tradition of Alabama and Nazereth with strong electric guitars and loud and fast rhythms.
Jennifer Daniels performed at the Borders Books in Kennesaw Sat. Feb 3rd. There were some sound problems but the audience wasn't listening and was rude anyway. Jen and Jeff played a lot of new material which was what made it worthwhile for me.
John Ims, Alex Call, and John Ford Colby put on a really nice show at The Swallow at the Hollow. I wanted to try the turkey this time around but they were out: but the pork bbq was great anyway. It was easy to recognize their hit songs but their funny stories and warm tones is what really makes the place so great.
January
Despite a huge article in the Creative Loafing encouraging people to see Posh Digs and Catfight! up the street, even Kevin Rej went up there for a while. 6X still managed to fill the Echo Lounge for a most enjoyable show. Another handicap was Donkey Punch, from Athens, but that's my opinion and yours may vary. [See review here]
The Changelings and Aphelion played to a packed Echo Lounge for a very enjoyable show. Diana, my favourite Cello player was in white body paint and cool silver hair accents. Centipede opened. [See my review]
Friday Jan. 19th was another great show at The Swallow at the Hollow, this time with Don Henry, Steve Saskin, and Angela Kaset. I wish I had known Don Henry was going to perform because I have several friends who wanted to see him. Still I'm happy he sold out Saturday night.
Jan 12th I went back and had great time watching Don Ellis, Tim Johnson, and Billy Montana play the Swallow at the Hollow in Roswell. I'm going to regular that place. I tried the Bar-B-Que and it was awesome and well worth the drive. Imagine if they grew the cabbage for the cole slaw out back, and the pigs and cattle were kept down the road a piece: imagine how fresh the food tastes.
I saw The Tempest at the American Shakespeare Tavern. It's a great play - good characters, good story, and fast moving: it's hard to screw it up. This production was not as good as it should have been.
Jan 5th - I found a great music venue in Roswell! It's called The Swallow at the Hollow and while they won best Bar-B-Que in Atlanta, I was more impressed by the music. Jimbeau Hinson, Michelle Wright, and Jon Michaels came down from the Bluebird Cafe in Nashville to share with us some really awesome music. The place is a warm wooden living room setting and the acoustics are incredible. I'm definitely going back!
Happy New Year. In case you're wondering what exciting thing I did for the big new Millennium event - I slept through it after spending the weekend stuck at the airport.
You can still visit the news archives from: 2000, 1999, or 1998.
All pictures are the property of Stefan and are not to be posted on other websites or published in any medium without express written permission. Questions, comments, and corrections are always welcome.
---
Created Oct. 10, 1995
Updated 16 Sept. 2012
© 2012 Stefan Oestreicher
All rights reserved

spunbystefan@yahoo.com
bytes served.