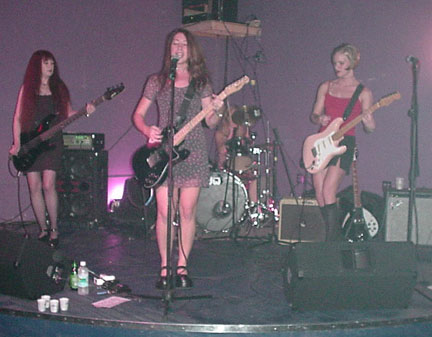 Amanda Jones
Live at the Earl
East Atlanta, Georgia
Friday August 13th, 1999
by Stefan

| | |
| --- | --- |
| | Friday the 13th must be good luck for Amanda Jones because they put on one amazing show at the Earl in East Atlanta. About 50 people attended the 1 am performance which made the small venue quite comfortable. The band, with Diane filling in for Kristen, really played well and I'm sure they impressed many of the visitors in town for the Atlantis Music Conference. |
This is my attempt to capture the band as they played. But, since I'm not a professional photographer and The Earl is really dark, the pictures just aren't very good. Still you can get the idea. For most of my pictures I tried not use a flash because it is so obnoxious. But Carrie was standing in front of a light which just ruined all my shots of her while Vickie was in a dark corner and Diana was hiding behind the drum sets. So I had to use some flash which didn't help because most of the pictures came out with cat's eyes.

If I was a professional concert reviewer, this is where I put some spin on their style and capabilities. Well, I'm not a pro! I'm just going to say that a lot of people had a really good time. That's why people go out to see bands, right?

I will say, for those unfamiliar with the band, that they have a "Girl Band" sound similar to that of the Go Go's or the Bangles but are not the same and do all their own music (with one exception).

Amanda Jones, the band's name, comes from a Rolling Stones song: No one in the band is named Amanda Jones. The song, Amanda Jones is the one cover tune they perform regularly.

Most people recognize the name from a 1987 movie entitled "Some Kind of Wonderful", with Eric Stoltz, Lea Thomson, and Mary Stuart Masterson.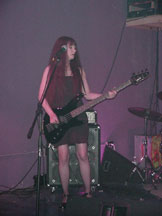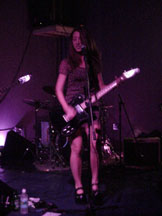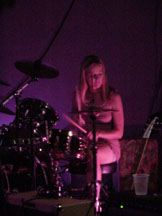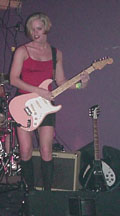 Amanda Jones is: Vickie Dahlgren playing bass guitar, Teresa Anderson - vocals and lead guitar, Diana on drums, and Carrie Morris playing the rhythm guitar (and occasional keyboard).
The Earl is a small bar in East Atlanta on Flat Shoals road, just up the street from The Echo Lounge. In the front they have a nice sized bar with about a dozen tables. In the back they have a small music venue, with stage, that can probably cram 150 people. The beer selection is pretty weak, but the air conditioning works pretty good. That's very important for a bar in Atlanta.

| | |
| --- | --- |
| After the performance the girls hung around to autograph their CDs and smooze with the crowd. This is probably the best picture I took the whole night. It was really nice of them to pose for the pictures. | |
I'm a little disappointed that the regular drummer, Kristen Moss wasn't there. I don't know the whole story, but I hear that she hurt her arm. I hope she gets better soon.

The showcase performance at The Earl was part of the Atlantis Music Conference. A weekend of music where hundreds of unsigned bands fill all the area clubs and we get some great shows. This marks the sixth time I've seen Amanda Jones perform since I moved to Atlanta in 1998. I think they're going to be very popular someday, besides their awesome sound, they already have serious stage presence. Visit their website, which is very nice, at http://www.girlmusic.com and read some more about them and listen to their sound clips. Their webmaster has some really cool tricks in their website too.
Don't forget to leave big tips for the bartender - Jimmy
He provided the requisite Jegermeister shots, which can been seen in front of Teresa's feet in the top picture. I wonder who bought them?
All pictures are the property of Stefan and are not to be posted on other websites or published in any medium without express written permission.
---